"He covers all the ground that the music demands, from lyric and delicate to appropriately dissonant. Finally, he has a profound understanding of improvisation, which is the essence and key to the Grateful Dead music in which he specializes. It's no wonder he's one of a tiny handful of keyboardists that rank as the genre's go-to choices for all-star groups."
-DENNIS McNALLY, former Grateful Dead publicist and historian, author of "A Long Strange Trip, the Inside History of the Grateful Dead."
Bio
Musician: Keyboardist/Vocalist
Guberman is an American keyboardist, vocalist, and songwriter. He began playing with Phil Lesh and Friends in 2015, most notably during the re-creation shows that celebrated the 50th anniversary of the Grateful Dead. Guberman was also a member of Lesh's band Communion. An ever important member of the Bay Area music scene, Guberman has played with just about every band and musician that's a part of it. When not touring and playing across the U.S. with almost every professional band that plays the music of the Grateful Dead and more, Guberman tours internationally with The Gilmour Project. Scott Guberman's history finds him breaking into the Grateful Dead scene at the turn of the millennium. He first gained recognition as a Hammond organist performing heavily with Rock & Roll Hall of Famer and former Grateful Dead keyboardist, Tom Constanten; and touring with Grateful Dead's final keyboardist, Vince Welnick.
Scott Guberman & Friends
Scott Guberman & Friends consists of the best musicians playing Grateful Dead, Grateful Dead related music, and songs composed by Scott Guberman.  Some of those songs were written in collaboration with great artists.  There's a song written with David Gans that shares both lyrics and musical credits with both musicians.  Lyrics for another one of songs were written by the Grateful Dead's former manager Sam Cutler.  Two other songs were written with Greg Anton and lyrics for those songs were written by none other than the legendary Grateful Dead lyricist Robert Hunter. 
Guberman himself, is an important member of the Bay Area music scene in between his shows with Lesh, which has allowed him to form tight musical bonds with the best musicians out there.  His prior relations with the East Coast music scene that he came from, allows Guberman to regularly rotate the best musicians, from both coasts, through Scott Guberman & Friends.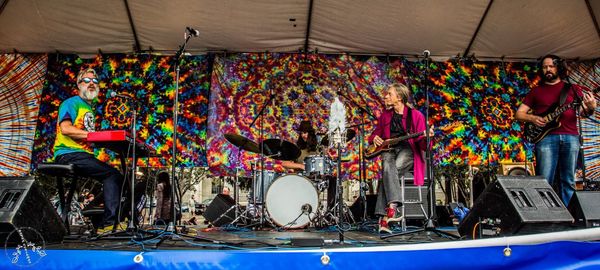 Scott Guberman Solo
Scott Guberman performs solo, playing and singing one or two sets of Grateful Dead as well as songs written by Guberman. This is a true, psychedelic experience with a repertoire that truly spans the entire catalog of the Grateful Dead, from the most popular to the most obscure including avant-garde, under-performed material.
Early History
There was a piano in The Guberman home that Scott could be found tinkering around on as early as the age of 5, and by high school Scott Guberman was playing synthesizers regularly in rock bands, often filling the role of a second guitarist.  It was a few years before this that Guberman knew he wanted to play keyboards professionally for the rest of his life while discovering synthesizers and electric keyboards.  After high school Guberman went on to study classical piano at The Hartt School of Music.  Somewhere in between high school and college Guberman discovered his love for The Grateful Dead and by college became passionate about and focussed on playing the music of The Grateful Dead.
Guberman played B-3 on various albums with 
Tom Constanten of the Grateful Dead 
Buddy Cage of Bob Dylan 
Greg Anton of The Heart Of Gold Band 
Stu Allen 
Mark Karan, Robin Sylvester, And Jay Lane of Ratdog 
Jason Crosby and Grahame Lesh of the Terrapin Family Band 
Phil Lesh of the Grateful Dead 
Guberman has performed in various venues throughout the US with various musicians including all of the aforementioned, as well as 
Mike Gordon of Phish 
Jaimoe of The Allman Brothers 
Kali Baba, Abe Guthrie and Krishna Guthrie of Arlo Guthrie 
Jeff Pevar of Crosby Stills and Nash 
Melvin Seals of Jerry Garcia Band 
Melvin Seals and JGB 
Kenny Brooks of Ratdog 
Donna Jean Godchaux, Vince Welnick, Dan Healy, and Bob Weir of the Grateful Dead 
Sebastian Bach of Skid Row 
Charles Neville of the Neville Brothers 
John Molo of Bruce Hornsby and The Range 
Boyd Tinsley of Dave Matthews Band 
John Mayer 
David Nelson and Michael Falzarano of New Riders Of The Purple Sage 
Tony Markellis, Jennifer Hartswick, Russ Lawton, and Natalie Cressman of Trey Anastasio Band 
Vinnie Amico of moe. 
Norman Greenbaum 
Michael Shrieve of Santana 
Lester Chambers of The Chambers Brothers 
It's A Beautiful Day 
Joe Craven 
David Gans 
Chris Robinson of The Black Crowes 
Barry Sless and Robert Barraco of Phil Lesh and Friends 
Tony Saunders' Keystone Revisited 
Oteil Burbridge of Dead and Company 
John Kadlecik, Jeff Mattson and Skip Vangelas of Dark Star Orchestra 
Sikiru Adepoju